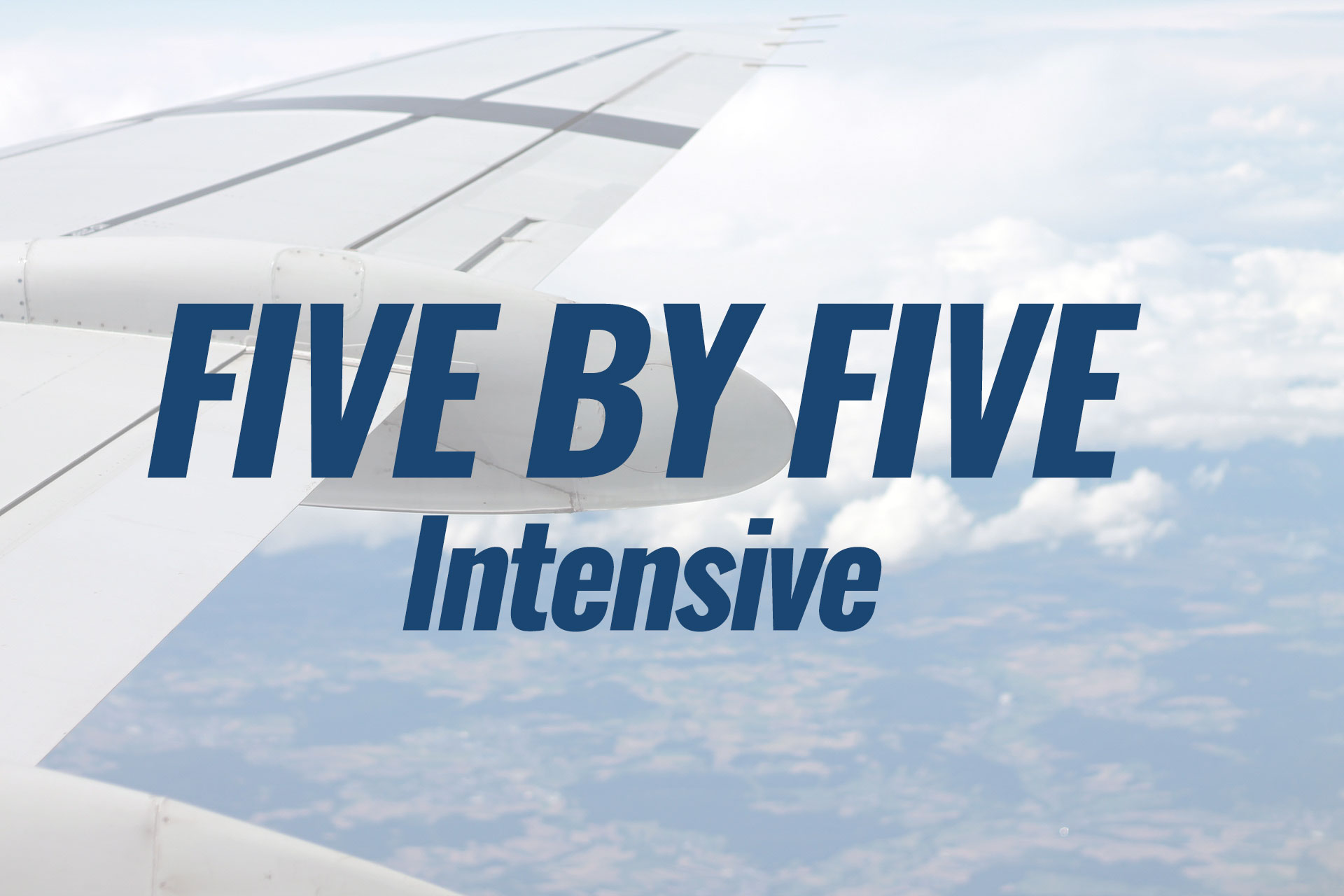 Five by Five is the course you take to improve your Aviation English proficiency above ICAO 4. Students achieve best results from this course when they spend at least 4-6 weeks in private or small group study with an instructor. This course is a private study course. However, please contact us for dates of our next group course. (If a group course is available, a link will be here: (now registering for our August 1-Sept 2 Group class-Time To Be Determined)
Course Objectives:
Students attending Five by Five will develop effective ICAO English proficiency skills such that they feel well-skilled in non-routine Aviation situations. Students will accomplish their goals through conversation, classroom discussions, non-routine pilot/ATC transmissions, and videos. With guidance from the instructor, students will:
Converse about aviation-related career goals and routine situations in aviation and incorporate transitional phrases in their conversations.
Summarize and discuss aviation related emergency incidents from FAA training materials, aviation texts, videos, and audio recordings using advanced aviation vocabulary.
Construct multiple part radiotelephony messages with strong vocabulary skills to communicate on a wide range of aviation topics.
Construct questions and advice using a variety of advanced structures to learn more details about non-routine situations in aviation.
Identify the purpose of pilot/ATC messages and respond appropriately using complex Aviation English vocabulary.
Practice aviation vocabulary by focusing on removing mistakes in pronunciation by focusing on minimal pairs, consonant clusters, intonation, and word stress.
Develop solid sentence structure using advanced grammar (prepositional phrases, perfect tenses, passive voice construction, adjectives, adverbs, etc.) to build context-rich sentences.
Compare and contrast photos of non-routine/emergency situations in aviation, being able to incorporate a variety of tenses and grammatical elements.
Research a variety of non-routine situations in aviation in order to develop a deeper knowledge of aviation terminology and concepts.
This is a private study course in which you'll work with an instructor online via Zoom or Google Meet for 54 hours of live lessons. Please expect a MINIMUM of 36 hours of customized homework and online assignments. Students are encouraged to continue to study prior to taking an ICAO Test. Students will also have free access to Strategies for ICAO Testing Membership for the month following the Five by Five course.
Best of all, each of the three evaluations you will take during the course are assessed by an ICAO English Proficiency rater and will come with feedback and suggestions.
This is NOT a "fast fix." ICAO 5 demands technical vocabulary and specific skills. At Expedite Aviation English, we believe in strongly building aviation English proficiency, not just random skills to pass a test. Students MUST be willing to do the work recommended over time in order to see an improvement in your skills. Your best chance of success comes when you plan to study these materials over the course of six to eight weeks so that you have time to strongly anchor the skills you'll need to be successful. Now, if you're ready to get to work, let's Expedite!
*Students MUST show proof of ICAO 4 English Proficiency after enrollment.
The Five by Five iBook (Apple devices) can be purchased here.  Email us if you need EPUB options .